Sports connected with rewards!
Belleville, New Jersey – Honos coin today announced a new partnership with Astoria Knights FC, will be using Honos coin for their purchases and  to expand their brand beyond the their already influential dominance of the New York Soccer and Tristate sports scene. The Semi professional team, which is in the UPSL league announced that the new partnership would allow better relationships between their fans, players and partners, while expanding their brand access.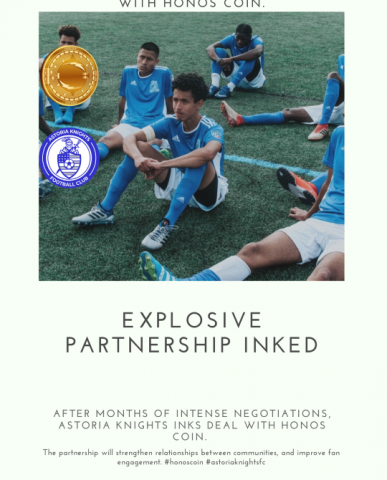 "This partnership will help strengthen, our community and civic duties, while also providing us with a reliable way to promote the AKFC brand said Darnell Olivere president and CEO of the AKFC organization."
Darnell continues, "Our goal at Astoria Knights FC, and subsidiary organizations has and will always be to expand the brand of our sports teams, companies and community impact, while improving community relations with fans and organizations we do business with. And we believe the only coin, that can help us do that is Honos coin".
"The Astoria Knights FC partnership comes as a shock, because they are a very reliable company which focuses on build relationships and they have a solid reputation In both professional sports, training and development. With their fans, being so loyal, they had to make sure we were the right fit for them, and it turns out we were. I'm proud that our company, as a new player in the Crypto space attracted the eye of Astoria Knights FC and Darnell Olivere," says Richard Encarnacion, CEO at Honos Coin.
"Wow That's big" says – Unanimous Insider.
The benefits of this new partnership include.
Global Brand reach for AKFC and Sports representation for Honos coin. 
Community and fan engagement with Cryptocurrency semi pro and professional soccer affiliation.
Facilitate buying for fans and
About Honos Coin:
The first loyalty and rewards stable coin which allows businesses to improve customer loyalty and users get rewarded. The Coin economics focuses on purchasing power parity and solves the (POS) merchant problem. Honos Coin aims to be the #1 loyalty rewards Coin on the planet.
Contact:
Email: Info@Honoscoin.io
Website: www.Honoscoin.io
Facebook: /honoscoin
Instagram: @honos.coin
Twitter: @Coinhonos
About Astoria Knights FC:
A semi-professional soccer team in New York. The team is a member of the United Premier Soccer League and was the division runner-up in Spring 2019. Astoria Knights FC is a pro-development club with connections to professional teams and professional soccer leagues across the globe.
Contact
Direct: 917-830-4462
Email: astoriaknightsfc@gmail.com
Website: www.astoriaknightsfc.com
Facebook: /astoriaknightsfc
Instagram: @astoriaknightsfc
Twitter: @astoriaknights
Media Contact
Company Name: Honos Coin
Contact Person: Josue M. E.
Email: Send Email
Country: United States
Website: www.Honoscoin.io